Academic Holds
Clearing Holds
As you get ready for Registration, remember to take care of any pending holds so you can register on time.
To check your holds:
Login to Uconnect with your TAMIU username and password.
On the My App page, click My Records and then go to Academic Records
View your Holds, Holds Originator and Registration Notices. This is located on the top, right-hand side of your screen underneath your username.
Hold Originator
If your student record has a hold that keeps you from registering, note that each hold has an "originator." The originator is the TAMIU department who placed that hold for you and is the only one that can clear or waive the hold.
Use our online directory to search for the department contact information. Call or email them for further instructions.
Once they clear/waive your hold, then you will be able to proceed with registration.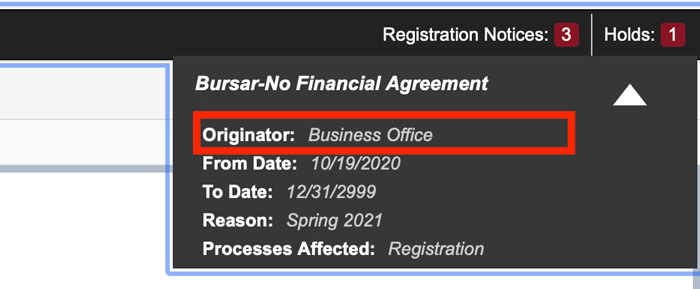 Hold Resolution Information
Type in the name of your hold or use the table below to find out how to clear your hold.
Table Includes Information on Student Holds
Hold Type
Clearance Instruction
Advising Hold
Log-in to DegreeWorks to identify your Academic Advisor and send an email for guidance. Click on your Advisor's name to send an email message.
Alternative Certification Program
Meet with your designated Academic Advisor from the College of Education. Contact acp@tamiu.edu for more information.
Athlete Hold
Student-athletes must meet with the Athletics Academic Coordinator for schedule modifications. For more information, contact the Academic Center for Excellence. 
Bacterial Meningitis Vaccination
Visit Student Health Services to find out how to provide proof of your Meningitis Vaccine.
Bursar – No Financial Agreement
May appear as: Financial Responsibility Agreement
Log in to Uconnect and click on the Financial Responsibility Agreement. Follow instructions to sign your agreement to clear hold.
Business Office Hold
Contact Business Office for more information. Taking this step will also clear the Transcript Hold Only.
Compliance Hold
For Sexual Assault Training: After the 20th class day, students will receive an email to their Dusty account with a direct link to complete this required training.  
For Investigation in Progress: Contact the Title IX coordinator for additional information. 
F1 - Visa
Hold placed to verify enrollment hours to meet regulations. Contact Office of International Engagement advisor to confirm registration requirements
Final High School Transcript
Submit Final High School Transcript.
Financial Aid Hold
Contact the Office of Financial Aid for more additional details.
Fine Arts/Music/Instrument
Check-in instrument or contact the Department of Fine and Performing Arts for temporary hold removal.
Foreign Language Requirement
Hold does not prevent registration or schedule modification. Visit the Catalog for information on Foreign Language Requirement
Grad Candidate-Reg Hold Only
Hold placed after you apply for graduation. You must successfully complete your last semester in order to graduate.
Health Insurance
Hold may be placed on Student Athletes and/or International Students due to Health Insurance Requirement. Contact Business Office for additional details.
Housing Hold
Contact Housing and Residence Life at housing@tamiu.edu for specific information regarding this hold.
Judicial Affairs
Email scce@tamiu.edu for hold removal/waive with reason.
Laptop Loaner
Check-in laptop with the Office of Outreach and Pre-College Programs.
Library
For book loans, contact the Killam Library Circulation Desk.
Mariachi Folder
Check-in Mariachi Folder.
Mariachi Traje
Check-in Mariachi attire.
Music Scholarship Community Hours
Complete designated community hours.
No Online Registration
During your first semester at TAMIU, you'll not be able to register without the help of an advisor. 
Official College Transcript
Submit an official transcript from other higher education institution(s).
Official Test Scores
Submit official SAT or ACT scores.
Orientation
New students must attend New Student Orientation. Register for orientation or email orientation@tamiu.edu for more information.
Pending Updated Transcript
Submit most recent transcript.
Permanent Resident Card
Submit a copy of your Permanent Resident Card to the Office of Admissions.
Police Department
Contact the Police Department for details.
Probation/Provisional Status
Students admitted Provisionally and who are on Probation must meet with an Academic Advisor to register for courses.
Proof of U.S. Citizenship
Submit proof of U.S. Citizenship to the Office of Admissions.
Sanchez Scholars
Sanchez Scholars' hold will be reviewed with your Sanchez Family Foundation Scholarship Advisor. 
SB1528 Affidavit
Complete SB1528 Affidavit Form, must be notarized (can be notarized in Registrar's Office). For more information contact Office of Admissions.
See Faculty Advisor
Schedule an appointment with your Academic Advisor. See reason and origination for more information.
Study Abroad Course Transcript Pending
To count study abroad course(s) as part of your TAMIU Degree plan, submit your study abroad course transcript to the Office of International Engagement.
Study Abroad Service Hours
Requirement of 25 service hours, please contact the Office of International Engagement.
Texas Success Initiative (TSI)
Hold is placed on students who are missing TSI score or are not TSI Ready. For TSI testing information, please contact the Testing Center.
Transcript Hold Only
Contact Business Office to review Business Office Hold, these two holds are placed at the same time. Once you clear your Business Office Hold, the Transcript hold will also be cleared.
Tuition Balance
Contact or visit the Business Office to make payment or payment arrangements. 
6 State Drops Remaining
5 State Drops Remaining
4 State Drops Remaining
3 State Drops Remaining
2 State Drops Remaining
1 State Drops Remaining
0 State Drops Remaining
The "6 Drop Rule" prohibits students from dropping more than six classes after "Census Date" at any community college, four-year college or university during their entire Texas college career. For more information, please read the 6-Drop Limit Policy.

*Note that this hold does not prevent registration; it serves as a reminder of how many withdrawals (W's) you have left.
2.75 GPA required- ED Courses
Contact your Academic Advisor from College of Education to review requirements for GPA and other admissions requirements for the College of Education.