Dean's Welcome
As a member of the AACSB, and one of the Top 50 Best Colleges for Hispanic Students, the mission of the Texas A&M International University (TAMIU) A.R. Sanchez, Jr. School of Business (ARSSB) is the creation of a learning experience that increases the knowledge, skills, and professional ethics of a new generation of future business leaders who will function in a diverse, global and competitive environment.
Consistent with our mission, we offer Undergraduate Business Degrees that that allow students to take courses in Accounting, Management Information Systems, International Economics, Finance, Management, Marketing, General Business, and Business Law. In addition, our new Oil and Gas Certificate Program enables students to learn about the operations of this growing industry and gain job skills for entry into this field.
Our Master of Business Administration (MBA) program offers specializations in International Business (taught in English and Spanish), International Trade and Logistics, International Banking and Finance, and Management, while having specialized graduate programs in Professional Accountancy and Information Systems. Three of our MBA specializations are available in both face-to-face as well as online delivery modes, while the International Trade and Logistics program is available only online.
Our Ph.D. program in International Business Administration began in the fall 2004. Since the inception of the program, 28 students have earned their Ph.D. degrees from the College.
"International" is in both our University name and our DNA, with our faculty coming from 14 countries worldwide. Laredo is the busiest inland port in the United States and accounts for over forty percent of all the inland trade between the U.S. and Mexico. Our business programs are oriented toward not only the domestic aspects of business, but also the international aspects. We have programs in both Laredo as well as Mexico, and many of our faculty members have teaching and research interests related to globalization.
TAMIU's A.R. Sanchez, Jr. School of Business is proud of its enthusiastic faculty who honestly care about their students. They are always willing to offer a helping hand. Learn more about our faculty by visiting the Division websites -- International Banking and Finance Studies (Accounting, Economics, Finance, Marketing, and Business Law); and International Business and Technology Studies (Management and Management Information Systems, and Operations Research/Decision Sciences).
Our Center for the Study of Western Hemispheric Trade "promotes the study and dissemination of research on globalization with an emphasis on the Western Hemisphere." Our Texas Center for Border Economic and Enterprise Development "marshals the knowledge and expertise of Texas A&M International University's faculty, students, and staff to provide effective leadership and support to Texas border communities in their economic development efforts." Finally, our Small Business Development Center serves the needs of small businesses in Laredo and the border region.
The ARSSB has student and faculty exchange programs, along with dual graduate degree programs with universities in Mexico, China, Latin America, and Europe, as well as access to innovative and enriching internships, fellowships, and scholarship opportunities. If you are interested, our student advisors are always there to help.
We look forward to hearing from you soon and welcome the opportunity to be your educational partner.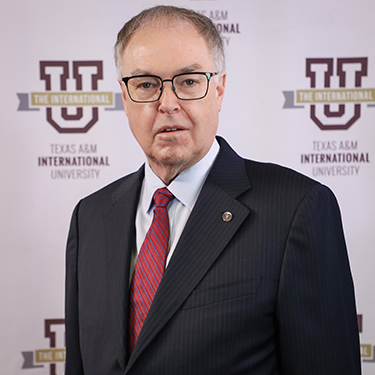 R. Stephen Sears, Ph.D.
Dean & Killam Distinguished Professor
A.R. Sanchez, Jr. School of Business
Texas A&M International University
Contact ARSSB Dean's Office
Contact Us
A.R. Sanchez, Jr. School of Business
Phone icon 956-326-2480
Fax icon 956-326-2479
Facebook icon jessica.lopez@tamiu.edu
Western Hemispheric Trade Center, Room 203
5201 University Boulevard, Laredo, TX 78041-1900