Texas A&M International University
Electronic Door Access

TAMIU is deploying a card access system throughout multiple locations on campus. The system utilizes the magnetic stripe on the TAMIU OneCard (employee/student identification card).
When the buildings with exterior card access are closed to the public, you will need your TAMIU OneCard to gain entry. Areas equipped with card access that require a higher level of security will remain locked at all times and require card swipe.

The following doors are currently secured with the electronic door access system:
AIC Building (Academic Innovation Center)- Exterior Doors
BLK Building (Bob Bullock Hall)- Exterior Door
CNS Building (Canseco Hall)-  Exterior door in main lobby
CH-201
CH-205
CH-212 B
CH-214
CWT Building (Dr. Billy F.Cowart Hall)-  Exterior door closest to Killam Library
CWT-208 D
CWT-208 E
FPA Building (Center for the Fine and Performing Arts)-  Exterior door in main lobby
FPA-131
FPA- 223
FPA- 224
FPA-227
KLM Building (Sue and Radcliffe Killam Library)- Exterior door in main lobby
KLM-005
KLM-155 (OIT Offices)
KLM-256 (OIT Data Center)
KLM-257 (OIT Offices)
LBV Building (Lamar Bruni Vergara Science Center)-  Exterior door on east side (by the main elevator)
LBV-121 – Research Lab
Physical Plant- Exterior Door
PLG Building (Anthony J. and Georgia A. Pellegrino Hall)-  Exterior door in main lobby
PLG-113
REC Building-(Kinesiology, Wellness and Recreation Center)-  Exterior door in main lobby
RLC Buildings (Residential Learning Community)
Pedestrian Walk Gates
Exterior building doors
STC Building (Student Center)- Exterior Door
SC-224
SC-229
UPD Building (University Police Department)- Exterior Doors
ZSC Building (Zaffirini Success Center)- Exterior Doors
WHT Building (Western Hemispheric Trade Center)-  Exterior door located in northeast corner (closest to Cowart Hall)
Instructions for Using the Card Readers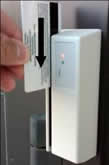 Swipe your TAMIU OneCard with the magnetic stripe facing the LEDs on the reader.
If you are authorized to use the doorway, the door will unlock and the light will stay green. If you do not open the door within 15 seconds, the door will relock.
If the light immediately turns red, then you are not authorized for this doorway.
TAMIU Employees Requesting access to a Building or Room

To request access for a door with electronic id card access please email Card Services at onecard@tamiu.edu and a link will be provided to initiate a laserfiche Card Access Authorization Form.
TAMIU students Requesting Door Access to a Room
Submit your request to the appropriate professor that is the contact person for that particular room. The professor will need to email Card Services at onecard@tamiu.edu and copy the Dean of their Department requesting and authorizing access for a student.  The email should contain student name, his/her Banner/Student ID number, room location and a start and end date for access (note access is only activated on a semester basis).
Lost Cards
If your card is ever lost, immediately inactive it by logging into OneWeb site click here or contact Card Services at (956) 326-2877 during business hours to avoid having your Dusty Dollars used or your meal plan.
---

Card Services
Location: ZSC 131
Phone: 956.326.2877/Fax: 956.326.2879
onecard@tamiu.edu