Front of the OneCard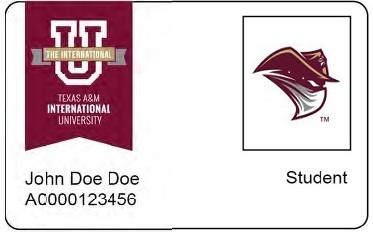 The front of your TAMIU OneCard
Name: Your name will appear as it is recorded through the Registrar's Office. If there is an error in your name, please notify the Registrar's Office (ZSC 121) .
Photo: Be ready to have your picture taken, caps, hats, scarves and sunglasses will not be permitted for the picture.
Student: This identifies you as a student of Texas A&M International University.
ID#: Your unique student ID number is printed on the front of the card. You will notice that this number is now used across campus for your Banner account.
---

Card Services
Location: ZSC 131
Phone: 956.326.2877
onecard@tamiu.edu