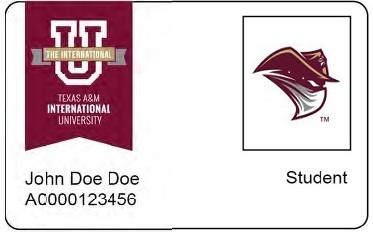 What is a TAMIU OneCard and why should I have one? A Texas A&M International University OneCard is your campus ID if you are a student, administrator, faculty, staff or alumni. It is important that you keep it with you at all times for identification, and for other privileges linked to your card. For example, if you live in the Residence Hall you will need your card for after-hours door access.
Who can have a TAMIU OneCard? The TAMIU OneCard is available to students, administrators, faculty, staff, and alumni. It is also available to others affiliated with Texas A&M International University. If you would like to have a TAMIU OneCard, but are unsure if you qualify, call TAMIU Campus Card Services at (956) 326-2877 or email us at onecard@tamiu.edu .
How do I get my TAMIU OneCard? You will need to come to Card Services located in ZSC-131 (and be ready to have your picture taken). Remember to bring a photo ID (drivers license, passport, etc.) with you. If you are an Administrator, Faculty or Staff member, you must first go by the office of Human Resources KL 158 and pick up a "Request for ID Card" form. Alumni must go by the Office Institutional Advancement KL-261 and pickup a "Request for ID Card" form
How much does it cost to get my TAMIU OneCard? If you have never had a TAMIU OneCard before, your first card is FREE. If you need a replacement card the fee is $10.00 you may pay with credit/debit at Card Services or at the Bursar's Office (ZSC 137) cash, check or credit/debit card.
What happens if I lose my TAMIU OneCard? Your TAMIU OneCard has the power to do a lot for you. In some cases, you need it just to get through the day. Because of this, you should protect your TAMIU OneCard as you would any important possession. If at any time you think your TAMIU OneCard has been lost or stolen, you should report it immediately.
There are three options available to you for reporting your lost card:
Go in person to Card Services located in ZSC-131.
By phone (956) 326-2877 during office hours or after hours with TAMIU Police Dept. (956) 326-2100.
Via online at http://onecard.tamiu.edu.
What if my TAMIU OneCard does not work?
If a card no longer works properly due to wear and tear, there is no replacement charge. However, if it is determined that a card has been altered or abused, there will be a $10.00 replacement charge. Any alteration not made by the TAMIU Card Services staff is considered abuse.
Do I need to renew my TAMIU OneCard every semester?
No, if your TAMIU OneCard contains the ID number that starts with A000, this is a valid ID for your continuing semesters. You may renew your TAMIU OneCard if it has your old ID number which begins with 100 or if you have legally changed your first or last name, at no charge.
What can the TAMIU OneCard be used for?
While its primary function is identification, your TAMIU OneCard does much more than just show people who you are. It can allow you to:
Access your residence hall
Make use of library, labs, and other academic resources
Enter sporting events and recreational activities
Utilize a meal plan
Use your Dusty Dollars
How do I deposit money to my Dusty Dollars account?
There are two ways to deposit money to your card:
At Card Services located in the ZSC 131 or at the Bursar's Office located in ZSC 137.
By using one of the self-service Cash 2 Card Stations located at the Killam Library 1st floor and 2nd floor or at the Student Center food court area.
Is there anything else I should know?
Listed below are some do's and don'ts about using your TAMIU OneCard:
Do know where your TAMIU OneCard is at all times.
Do carry your card with you at all times.
Do come in and get a new ID if yours is not working properly. There is no charge for replacing an old, worn out ID Card. However, there is a $10.00 replacement fee for lost/stolen or misused IDs.
Don't mistreat you TAMIU OneCard.
Don't alter the appearance of your TAMIU OneCard. This includes, but is not limited to: writing on, punching a hole in or scratching information off the card.
Don't allow someone else to use your TAMIU OneCard. Possession of someone else's card may be considered a violation of University regulations and could subject both the user and card owner to disciplinary action.