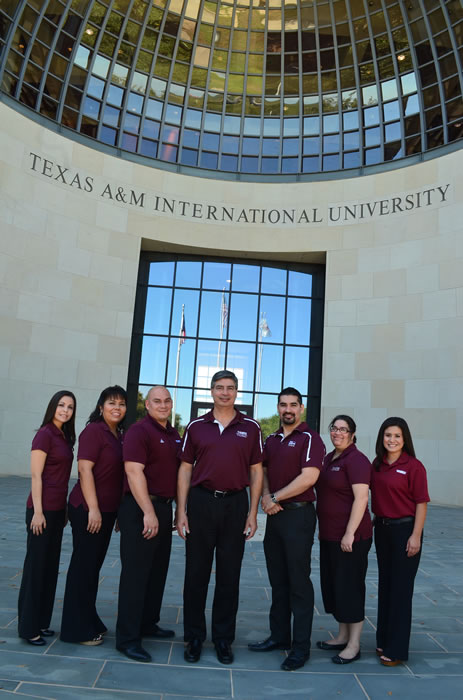 Officers 2014 - 2015

Fred Juarez III – President
The President presides over all meetings of the Staff Senate and will have primary responsibilities for preparing the agenda for each meeting.  As an elected representative, the President may vote on any and all issues, ensures that all Staff Senate activities are conducted in an orderly and professional manner, and that all actions conform to Staff Senate Constitution and Bylaws.
Roberto H Garza III– President Elect
The President-Elect presides in the absence of the President, assumes the duties of the President for the unexpired term in the event the President is unable to complete the term of office, and is responsible for disseminating information about Staff Senate to all new employees.
San Juanita Perez/Celinda Sarabia– Vice President (administrative/support staff)
The Vice-President carries out duties as assigned by the President.
Yezmin Salazar – Secretary
The Secretary takes and maintains the minutes of each meeting of the Staff Senate and Staff Senate Officers, publishes and distributes the minutes from the previous Staff Senate meetings as well as the agenda for the upcoming Staff Senate meeting to all members at least two working days prior to the next meeting via email, sets the monthly meeting (location, refreshments, etc), solicits agenda items for the meeting, and prepares and distributes the agenda. The Secretary will be responsible for maintaining accurate records, including attendance, of all business conducted by the Staff Senate as well as maintain historical and past information of the Staff Senate.  The secretary serves as a resource person to the incoming secretary.
Vanessa Almaraz – Treasurer
The Treasurer is primarily responsible for the Staff Senate's fiscal affairs, prepares a monthly financial statement and reports to the Staff Senate at each regular meeting, assist the President in preparing the budget for Staff Senate activities, disburses monies from Staff Senate funds for Staff Senate expenses,  The President of the Staff Senate must approve all disbursements of money. The Treasurer monitors disbursement of scholarship fund and follows-up with Financial Aid to make sure all scholarships are awarded and monitors fund-raising efforts and keeps accurate records of all activities.
Roberto C Martinez – Parliamentarian
The Parliamentarian shall ensure that all the Staff Senate abides by Roberts's Rule of Order when conducting its meetings and will serve as a resource person to the Staff Officers and membership regarding the usage of the slated rules of order.
Laura Elizondo - Past President
The Past President serves as a non-voting officer of the Staff Senate and provides continuity in the administration of the Staff Senate.  He/she serves as an advisor to current and proposed activities, using previous office experience to give a historical perspective, if needed.
HR Representative - Araceli Sandoval
The Director of Human Resource or designee shall serve as a non-voting ex-officio member of the Staff Senate.
The Constitution of the Staff Senate
Staff Senate meetings are held the 2nd Tuesday of each month. Contact Staff Senate with any questions, concerns, suggestions.