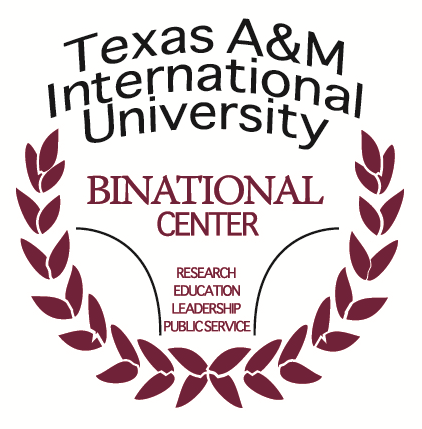 United States/ Mexico Relations
Binational Committee of the Eagle Ford Shale Consortium
Mission Statement
The Binational Committee of the Eagle Ford Shale Consortium's mission is to assist U.S. and Mexican business, government, institutions, and universities in their endeavors to engage in bi-national commerce and education related to the oil and gas industry for the mutual benefit of each country and its citizens.
La misión del Comité Binational del Consorcio de Eagle Ford Shale es asistir a las empresas, gobiernos, instituciones y universidades de Estados Unidos y México en su relación comercial y educativa binacional, específicamente en todo lo relacionado a la industria del gas y petróleo, todo ello para el mutuo beneficio de ambos países y sus ciudadanos.

Committee Chair: 
Maria Eugenia Calderón-Porter
       
     
Members:
Agustin Boone González, Seccion Mexicana - CILA
Dr. Luis Fernando Camacho Ortegón, Universidad Autónoma de Coahuila
Raul Coronado, Colaborador del Diputado Hector García García
Daniel Covarrubias, Cluster Coahuila
Dr. Guillermo Domínguez Vargas, Comisionado CNH
Diputado Hector García García, Cámara de Diputados
Mario Gómez, U.S. Section - IBWC
Diputada Amira Gómez Tuene, Cámara de Diputados
René González, Municipio Nvo. Laredo - Fomento a la Industria y Comercio
Dr. Juan Antonio Herrera
Ing. Antonio Juarez Alvarado, AMESPAC
Juan José Martínez de la Rosa, Consulado de México
Glafiro Montemayor, GEMCO
Rogelio Montemayor García, SIGNUM
Dr. Rogelio Montemayor Seguy, Cluster Coahuila
Pedro Pérez, Arguindegui Oil
Raul Pérez, Maverick County Corp.
Sergio Preciado, Grupo IMAGEN 94.1
Perfecto Reyes, Cámara de Diputados
Mara Rodríguez, Universidad Autónoma de Coahuila
     
Consul Miguel Rodríguez, Mexican Consulate
Lic. José Valentin Salazar Cantú, Instituto Tecnológico de Nvo. Laredo
Ing. Humberto René Salinas Treviño,  Desarrollo Urbano y Medio Ambiente del Estado de Tamaulipas
Elizabeth Sames, Laredo Area Community Foundation
Roberto Sánchez, Colaborador del Diputado Hector García García
Jorge Viñals, Desarrollo Económico de Nvo. Laredo
Lic. Javier Zenteno, Zenteno, Lira-Mora Abogados
Alejandra Bueno
For additional information contact:

Texas A&M International University
OFFICE OF GLOBAL INITIATIVES
Binational Center
International Language Institute
5201 University Boulevard
Lamar Bruni Vergara Science Center 301 (Main Office)
Lamar Bruni Vergara Science Center 201 (ILI)
Laredo, Texas 78041-1900
Tel: 956.326.2834
Fax: 956.326.2836
Email: binationalcenter@tamiu.edu
Office Hours:
Mon. - Fri., 8 am - 5 pm
Become our fan on Facebook!