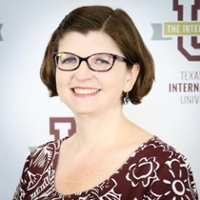 Dr. Deborah L. Blackwell, Ph.D
Director, University Honors Program
and Associate Professor of History
"Welcome to the TAMIU University Honors Program!  Our Program has provided intensive, advanced critical thinking and undergraduate research opportunities to TAMIU's most academically talented students since its inception in 2000.  Today, we offer the chance to complete accelerated coursework to Honors students in every undergraduate major at the University, as well as the opportunity to apply for one of three different Honors-linked scholarship programs.  Our graduates are among the most successful that TAMIU has produced, going on for advanced study and careers in a variety of fields.  Most importantly, I am proud to say that our Honors students are good people and productive citizens of our international world.  Please contact us if you are interested in being a part of this dynamic, hardworking group."
Mission Statement
The TAMIU University Honors Program (UHP) seeks to foster the academic development of A&M International's most talented undergraduate students. The University Honors Program provides the opportunity for seminar-style learning and critical thinking through designated core courses and contracts with professors in the student's major field of study.The program offers two options for students: the Honors Diploma, which requires at least 36 SCH of Honors work plus completion of a senior Honors thesis; and the Honors Certificate, which requires at least 18 SCH of Honors work and either a thesis or non-thesis option. Both the Honors Certificate and the Honors Diploma offer high-quality instruction and the chance to develop intellectual leadership.

University Honors Program
5201 University Boulevard
Pellegrino Hall 312
Laredo, Texas 78041-1900
Phone: 956.326.2133
Fax: 956.326.3129