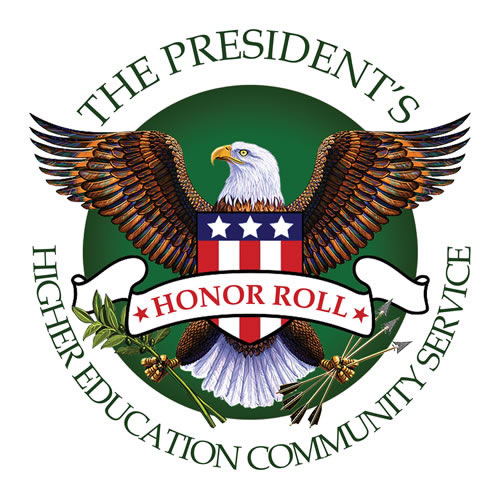 Presidential Volunteer Service Award (PVSA)

Texas A&M International University (TAMIU) has been named to the President's Higher Education Community Service Honor Roll which recognizes the important role universities play in solving community problems through meaningful and measurable student civic engagement in the community.
TAMIU is a certifying organization for the Corporation for National and Community Service, and may award it's students, faculty, staff and general community one of the highest volunteer honors – presidential recognition.  The President's Volunteer Service Award (PVSA) recognizes United States citizens and lawfully admitted permanent residents of the United States who have achieved a specific number of hours.
Effective June 1, 2017 and until further notice, certificate packages will not include Presidential letters. The PVSA website will announce when new letters signed by President Trump become available to include in award packages. All levels of certificates and in-stock award pieces will remain available throughout the transition.
Award Criteria:

Recipients must be United States citizens or lawfully admitted permanent residents of the United States
Awards are issued for service hours served within a 12-month period or over the course of a lifetime.
Awards are issued for volunteer service only.  Additional levels of participation with the organization, i.e. charitable support, are not a factor considered for the award.
Court-ordered community service does not qualify for the award.
Awards are issued by approved Certifying Organizations.
Service must be with an organization that is legally established in the United States, the Commonwealth of Puerto Rico or one of the territories.

Bronze Level:

Young Adults (Ages 15-25): 100 to 174 service hours
Adults (26+): 100 to 249 hours

Silver Level:

Young Adults (Ages 15-25): 175 to 249 hours
Adults (26+): 250 to 499 hours

Gold Level:

Young Adults (Ages 15-25): 250 hours or more
Adults (26+): 500 hours or more

Lifetime Level:

NOTE:  As of February 18, 2019, the Lifetime Achievement Award will be temporarily suspended, as per PresidentialServiceAwards.gov.  If and when this award becomes available, students will be notified.
Every long semester, the Office of Student Conduct and Community Engagement (SCCE) will confirm the eligibility of the President's Volunteer Service Award (PVSA) for all students which have served and reported hours through SCCE via Trailblazers. Students meeting this requirement will be contacted by SCCE via their TAMIU Dusty e-mail accounts to inform of award eligibility and details. The default 12-month period of eligibility for November 2020 applications is from November 2, 2019 to November 1, 2020.
If you are graduating in a term other than November and meet the qualifications for the award, please submit an e-mail to scce@tamiu.edu with your full name and TAMIU Dusty e-mail address for eligibility verification.
To request your Presidential Volunteer Service Award, you must complete the online PVSA application form. Deadline to submit award is November 1, 2020.
---
Student Center, Suite 226
5201 University Boulevard Laredo, Texas 78041
Email: scce@tamiu.edu
Phone: 956.326.2265
Office Hours
Monday - Thursday 8 am - 5 pm

Friday 8 am - 3 pm

Saturday & Sunday CLOSED

 UNIVERSITY CLOSED
December 21, 2020 to January 1, 2021
January 18, 2021
May 31, 2021