Upcoming Events
Title V and the PROF Center
are honored to present a talk by
John Prendergast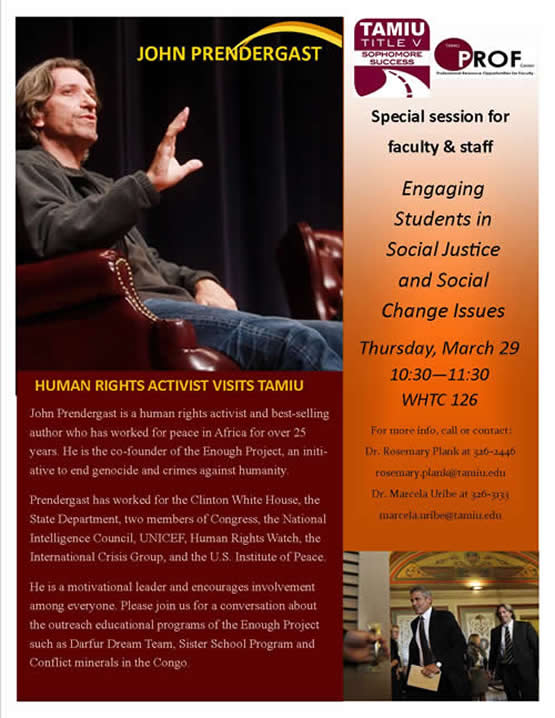 Presentation: Thursday, March 29, WHTC 116 from 10:30 to 11:30 AM
John Prendergast is a human rights activist and author, who have worked for peace in Africa for over 25 years. He is the co-founder of the Enough Project, an initiative to end genocide and crimes against humanity.
This session is a special intimate conversation with Prendergast about his work in Africa related to education and social justice sponsored by the PROF Center and the Title V, Sophomore Success Grant.
Admission is free and faculty and staff are welcome to attend.
Prendergast has worked for the Clinton White House, the State Department, two members of Congress, the National Intelligence Council, UNICEF, Human Rights Watch, the International Crisis Group, and the U.S. Institute of Peace. 
He is a motivational leader and encourages involvement among everyone. Please join us for a conversation about the outreach educational programs of the Enough Project such as Darfur Dream Team, Sister School Program and Conflict minerals in the Congo.
For more Information about this speaker, please call or contact:
Dr. Marcela Uribe at 326-3133
Dr. Rosemary Plank at 326-2446
or visit our office located in Killam Library 415.