Welcome to the Communication Disorders Clinic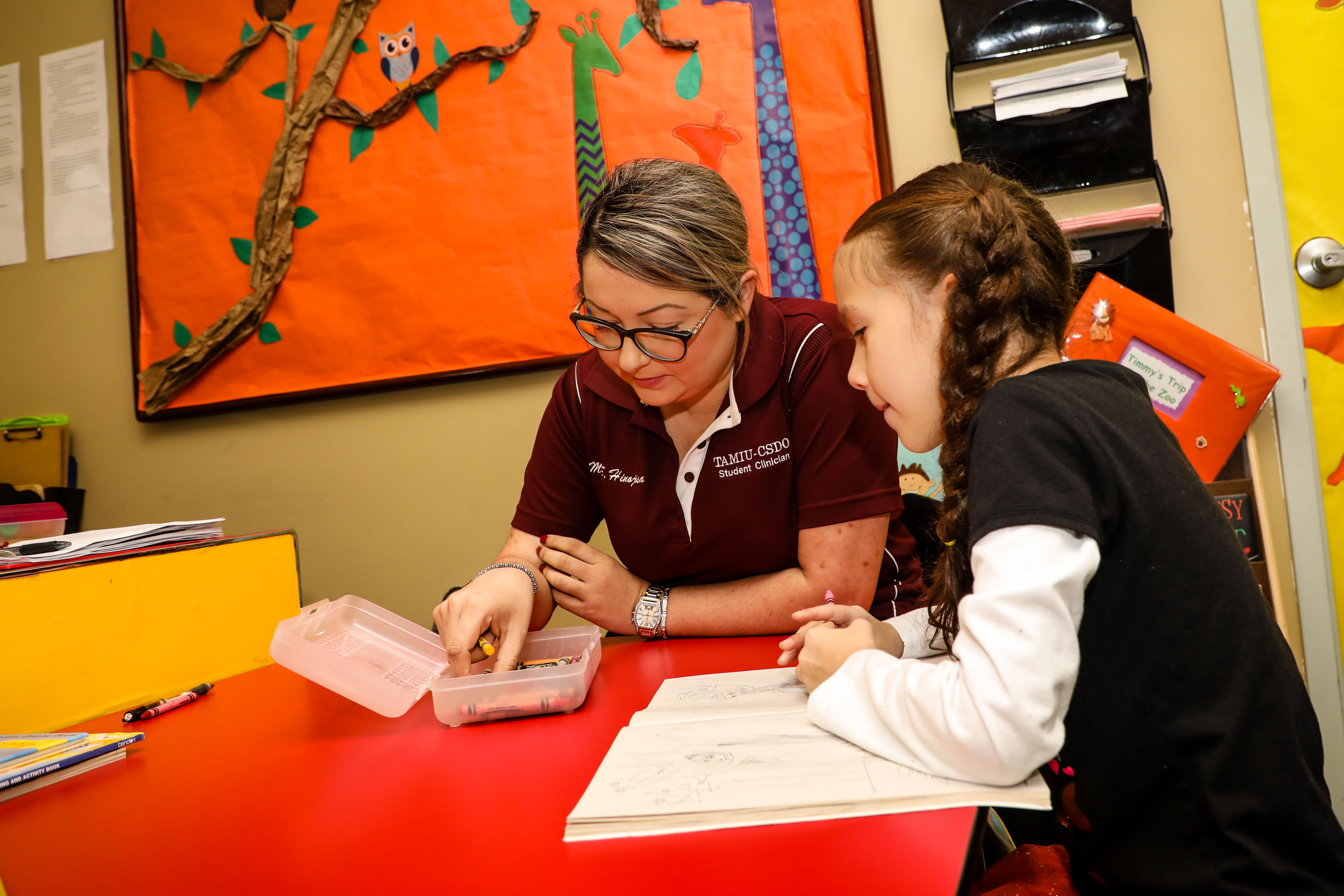 PROGRAM
Welcome to the Texas A&M International University Communication Disorders Clinic.  The clinic is a component of the Communication Sciences & Disorders department within the College of Nursing and Health Sciences.
Since its opening in 2007, the clinic has provided services to children and adults with speech-language disorders for the Laredo community.   
Assessment and intervention services are performed by undergraduate students under the supervision of clinical supervisors certified by the American Speech-Language & Hearing Association and licensed by the State of Texas.
Services include; assessment and intervention of speech, language, voice and fluency disorders in children and adults.  Services are provided in English, Spanish and bilingual (Spanish/English).  Appointment times are designed by the Clinic Director and student clinician schedules. Every effort is made to make appointment times as convenient for the client as possible.
MISSION
The mission of the Bachelor of Science in Communication Sciences and Disorders program is to provide culturally and linguistically diverse state of the art educational, clinical, and outreach experiences in speech-language and audiology, to enhance the quality of life for communicatively impaired citizens of the border region, the State of Texas, and national and international communities.
To meet this mission, the program emphasizes the importance of oral and written communication, scientific study, critical thinking, and ethical principles, maintain high standards in the clinical services it provides, the responsibility to educate the public about communication disorders, and the importance of continued professional development throughout one's career.
The program provides the candidates with the opportunity for clinical observation and practicum of therapy for individuals across the life spans that have communication delays or disorders.
SERVICES PROVIDED
Services include assessment and intervention for both children and adults with all types of speech disorders, including: accent reduction, apraxia, articulation and phonological, fluency, language delay or disorder, neurological impairments, language-based reading and writing and voice disorders.
APPOINTMENTS AND FEES
The clinic follows the University calendar for treatment appointments.
Speech-Language Therapy:
Speech-Language Assessment

 

$60

Individual

30 min.

$10

Individual

60 min.

$20

Group

60 min.

$10 per person

Speech Screening

       

$5
 A "sliding fee scale" is available to those clients who can show financial need. All fees are to be paid via electronic payment system: click here
Forms below should be filled out for assessments.
CONTACT INFORMATION
Melissa P. Garcia, EdD, CCC-SLP
Assistant Professional/ Clinic Director
CNS-302H
956.326.3139
mpgarcia@tamiu.edu
Communication Disorders Clinic
Billy Cowart Hall 122
956.326.3138
Monday-Thursday
9:00am - 5:00pm