Psychiatric Mental Health Nurse Practitioner Post Masters Certificate Program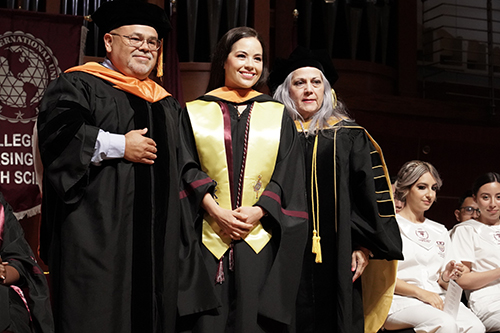 Psychiatric Mental Health Nurse Practitioner Post Masters Certificate Program
The Psychiatric Mental Health Nurse Practitioner (PMHNP) Post Masters Certificate Program is designed as a certificate course of study enabling a practicing Family Nurse Practitioner with a Master of Science in Nursing or Doctorate in Nursing Practice degree to prepare for credentialing as an PMHNP. The program prepares graduates to assume a psychiatric-mental health care provider role in community, acute care, and tele-health settings for patients across the lifespan. Upon completion of the prescribed course of study, the student's transcript indicates that he/she has completed the education preparation as regulated by the Texas Board of Nursing. Successful students are eligible to apply for the American Nurses' Credentialing Center (ANCC) Psychiatric Mental Health Nurse Practitioner Certification exam.
Program Learning Outcomes:
Upon completion of the MSN program, graduates will:
Critically analyze, interpret and utilize appropriate knowledge, research and theories to meet the health care needs of diverse client populations across the lifespan.
Collaboratively plan the delivery of culturally sensitive health care with organizations and the community.
Contribute to the advancement of nursing profession through evidenced-based research and practice.
Synthesize the leadership management, negotiating, teaching/coaching and consulting roles to foster continual improvement in order to meet changing societal and environmental needs.
Operationalize ethical, legal, political, and economic principles in application to management of health care delivery across the lifespan.
Advocate for advanced nursing practice through a commitment to lifelong learning and community service.
Admission Requirements
To be considered for admission to the Psychiatric Mental Health Nurse Practitioner Post Masters Certificate Program, applicants must meet both the general requirements outlined by the Graduate School and specific College requirements.
Deadline for Fall admission is MAY 31.

Complete the online application on www.applytexas.org.
Comply with all Graduate Admission Requirements as defined in the catalog for the year of admission.
Holds a valid unencumbered RN license without restrictions in the State of Texas
Evidence of an MSN Family Nurse Practitioner or DNP degree from a nationally accredited program.
Evidence of a baccalaureate nursing degree from a nationally accredited college or university.
Successful completion of Advanced Pharmacology, Advanced Physical Assessment and Advanced Pathophysiology prior to admission with a minimum of a "B".
Submit required immunizations, medical health insurance from a U.S. health insurance provider, physical examination completed by a licensed medical health provider, criminal background check and drug screen must be submitted separately to a designated vendor for repository of documents, i.e. Verified Credentials. 
Immunizations: MMR and varicella immunizations or rubeola, rubella or varicella titers; Tdap (tetanus, diphtheria, and pertussis); Hepatitis B (HBV) series or HBV titer or signed informed refusal; Annual influenza vaccination (yearly in the Fall of each year).
Verification of drug and criminal background screening by a designated company or agency at student expense. (Contact the Director of Graduate Program for questions).
Submit a signed release of information form for release of information to the CNHS. (Contact the Director of Graduate Program for this form).
Annual tuberculosis (TB) skin test or blood test.

For more information and to view degree plans, please review the MSN Student Handbook: