Take a Peek... It's Spring 2023 at TAMIU
The Spring Semester at Texas A&M International University will bring new courses, events, experiences, and opportunities for students…and members of the community at large. The campus' resources and environment will also see some changes.
Here's a guide to this Spring at TAMIU. 
Spring Semester face to face classes begin Tuesday, Jan. 17. Late Registration continues through Jan. 23, 2023.  To learn more about TAMIU's Registration processes, visit the dedicated Registration Hub at https://go.tamiu.edu/registration. 
Campus News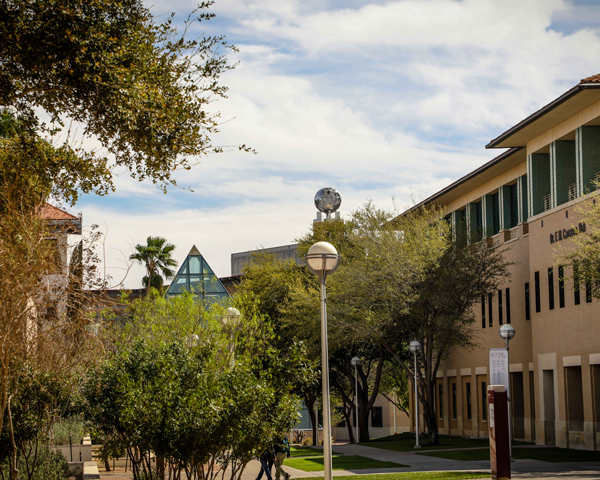 TAMIU Gets Fresh for Spring with Indoor/Outdoor Refreshes
There's nothing like a New Year to freshen things up. While students are away on holiday, TAMIU will follow an aggressive program focused on indoor and outdoor maintenance and amenities' addition and improvement.
Read more
TAMIU physical updates will include the modernization and updating of the Sue and Radcliffe Killam Library passenger elevators, and the painting of Bob Bullock Hall classrooms and staircases in the Killam Library, Dr. Billy F. Cowart Hall, Dr. F. M. Canseco Hall and the Rec Center. A new roof is being completed for the Kinesiology Convocation Building and the addition of two new 1000-ton centrifugal chillers will improve AC efficiency and delivery across campus.
Exterior changes range from sidewalk concrete repairs, the upgrading of popular exterior seating and lounge spaces and refresh of landscaped spaces around the Library, Bullock and Cowart Halls, to the installation of new decorative lighting along the North South Paseo through the Lamar Bruni Vergara Memorial Garden and the completion of an East West Paseo pedestrian experience expansion.
Other improvements underscore TAMIU's commitment to improving indoor amenities like the installation of new chairs in Lamar Bruni Vergara Science Center Labs, the creation of a new student study space in the north atrium of the Senator Judith Zaffirini Student Success Center, and the creation and installation of new mobile support stations in its south atrium.
Also this Spring 2023, TAMIU will embark on the second phase of its campus-wide Energy Services Conservation Project.
Profiles in Research Series
Our Profiles in Research series looks to highlight our diverse University faculty and their research efforts.
College & School News
College of Arts and Sciences
This Spring, the College of Arts and Sciences will continue to celebrate the arts by providing performance opportunities for students and the public to enjoy.
Read more
The Spring will see the return of the critically-acclaimed Dallas Black Dance Theatre (DBDT), a favorite dance group that has previously visited TAMIU in 2013, 2014 and 2022. DBDT, founded in 1976, is the oldest continuously operating professional dance company in Dallas. The ensemble, a contemporary modern dance company, is comprised of professional, full-time dancers performing a mixed repertory of modern, jazz, ethnic and spiritual works by nationally and internationally-known choreographers.
Also returning to TAMIU will be Mariachi Nuevo Tecalitlán, longtime partners with TAMIU and past visiting Artists in Residence. Mariachi Nuevo Tecalitlán was founded in 1965 by brothers Fernando Martínez Barajas and Pepe Martínez Barajas, and toured Europe, Latin America and the U.S. A second generation of musicians joined the 12-piece traditional Mexican group during the 1980s and 1990s. The group continues to regularly tour the US, Latin America and Europe.
A public concert by Mariachi Nuevo Tecalitlán is the capstone event of the two-day 7th International Mariachi Festival at TAMIU, which also attracts high school mariachi groups from across Texas for learning workshops with the group.
Continuing her 2022-2023 Artist in Residence is globally-acclaimed percussionist and longtime member of NBC's Saturday Night Live Valerie Dee Naranjo. Naranjo is a percussionist, vocalist, composer and clinician, known for her pioneering efforts in West African keyboard percussion music. She performs in Broadway's The Lion King and has recorded with several well-known musical acts like David Byrne, Philip Glass Ensemble, and Tori Amos, among others.
College of Education
The Spring semester at TAMIU's College of Education will bring new degree opportunities and delivery options to provide students with opportunities to grow professionally.
Read more
Now offered online are Master of Science degrees in Bilingual Education and Special Education. Also on the degree front, a new specialization in Curriculum and Instruction with National Board certification.
The College will also be expanding special resources available to its students, including free Si Se Puede Exam Prep classes as well as new grant opportunities that enable students to work with College faculty members as pedagogical partners in improving courses.
This Spring, the College will continue to aggressively pursue conference and service opportunities while continuing to encourage others to become a part of the teaching profession.
In March, the College will participate in the 39th Annual Teach Tomorrow Summit. It will also be involved in Texas Association of Future Educators (TAFE) State Competitions. This past December, the College hosted a popular TAFE Area 1 Conference, "Teach for the Stars," that attracted over 800 high school students.
Community engagement initiatives provide College of Education students expansive experiences that meaningfully broaden their classroom learning. This Spring, students will have an opportunity to join a Mini Library project that targets adopting a library in different parts of the community. Also available will be Lamar Bruni Vergara Literacy Project Tutoring that has been shown to dramatically impact reading skills for young readers in participating elementary campuses.
As part of its continued effort to culturally expand the classroom experience, the College will once again offer a popular Study Abroad program in Spain with longtime faculty member Dr. Diana Linn, associate professor.
College of Nursing and Health Sciences
As the Spring semester 2023 begins, TAMIU's College of Nursing and Health Sciences will offer new programs including an RN-MSN in Nursing Administration (online) and a Psychiatric Mental Health Nurse Practitioner Post-Masters Certificate Program (online). Both feature dynamic employment opportunities and address critical community and regional health care needs.
Read more
These degrees join an array of undergraduate and graduate programs offered completely online, including the RN to BSN, BS in Public Health, Family Nurse Practitioner and the MSN Nursing Administration. Of special interest is the waiving of the Nursing experience requirement for recent BSN graduates who want to apply to TAMIU MSN programs.
The College has a dedicated group of Academic Advisors who can help nurses navigate their chosen majors. In addition, expanded scholarship monies are available for Nursing students, and the College is hiring student tutors for Nursing and Health Science majors as part of its commitment to supporting students in their degree program.
University College
This Spring 2023, University College will offer a variety of Signature Courses including Living Life on the Edge, What Do You Meme?, Murder on the Border and Portraits of Feminism, to name a few.
Read more
Signature Courses continue to reinforce self-determination skills learned in UNIV 1201. Signature Courses are led by UC faculty with dynamic guest speakers from other Colleges/Schools, giving students an insightful, well-rounded experience and the opportunity to engage with their major's professor earlier in their studies.
Signature Courses culminate with a Community Engagement Consortium opportunity for students to showcase projects. Students in Signature Courses will participate in TAMIU's first-ever Community Engagement Day on March 29, 2023 with activities and community partners in various campus locations.
University College also welcomes the return of The Human Library. Last year's event was quite popular with Laredo community members and TAMIU students serving as books and readers.
Reading the Globe (RTG), now celebrating its 15th Anniversary, will build upon its success from last year's trip to Argentina. This year, the application process was tied to students' final personal responsibility essay they completed in UNIV 1201. Students wanting to participate in the selection process completed a short questionnaire, uploading their essay to the RTG website. The University plans to select 15 - 20 students to travel to Singapore during Maymester 2023.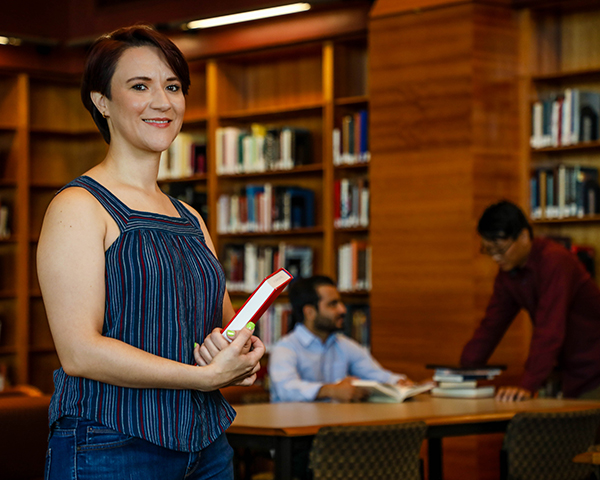 The Graduate School
In response to growing need and dynamic program expansions, TAMIU's Graduate School has transformed some graduate programs and certificates to an accelerated online learning format starting with the Spring Sub-Term Two.
"We always strive to provide a graduate experience that not only delivers enhanced career or professional growth, but can do so by being accessible, affordable, and convenient…that can be accelerated through online delivery," Dr. Jennifer Coronado, Dean of the Graduate School, said.
Read more
Those programs include the RN to MSN, the MS in Bilingual Education, MS in Special Education, and MS Curriculum & Instruction, with a specialization in Master Teacher. An Educational Diagnostics Professional Certificate will also be available.
The Superintendent Professional Certification will be offered in the accelerated online format starting Summer Sub-Term one.
The Graduate School is also encouraging student participation in the 18 th Annual Texas A&M University System Pathways Student Research Symposium to be held March 2 - 3, 2023, at Texas A&M University – Galveston.
It is open to all Texas A&M System students with separate categories for undergraduate, master, and doctoral-level research. The Symposium provides opportunities for students to present research in a poster or oral format, while interacting and discussing research with faculty, judges, and other participants. It also provides broader exposure to the TAMUS community of campuses and opportunities.
And Don't Forget...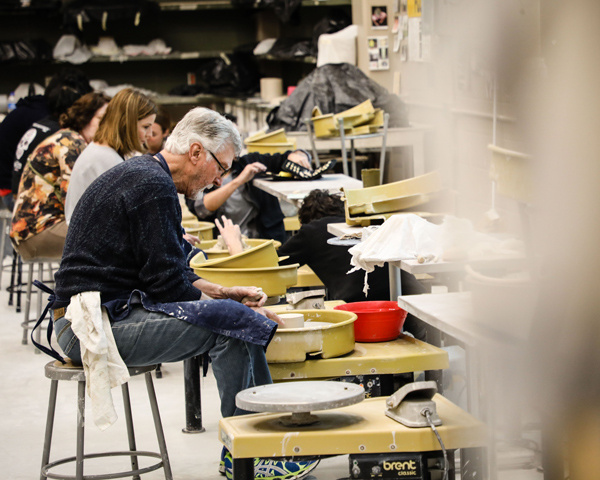 Continuing Education
TAMIU's Office of Continuing Education (CE) provides opportunities for certificates, test prep, and enrichment through courses offered by learning partners. Courses can offer the chance to start a new career or add new skills to one's professional toolbox.
CE courses can empower individuals, organizations and communities to enhance careers, lives, and social development and provide quality, value-added, solutions-based programs that fulfill the needs of learners.
Read more
CE also provides youth outreach and education through its Dusty's Junior University Summer Camp as well as prep/enrichment classes for students. OCE also shares knowledge and resources to support pre-K–12 students across Texas.
For more information, contact Susan Foster, director, at mary.foster@tamiu.edu or call 956.326.2765.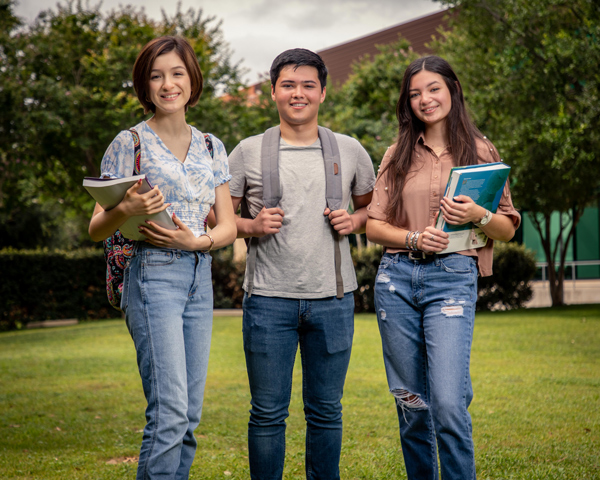 The Julieta and Frank Staggs Academy of International and STEM Studies
The Staggs Academy provides a rigorous program for highly motivated high school students to take University classes starting their junior year. The Academy offers free tuition, fees, books, and a supportive staff to help guide students through the University process.
Information sessions for Spring 2023 are scheduled for January 24, 2023, February 23, 2023 and March 22, 2023. All sessions are at 6 p.m. in the Western Hemispheric Trade Center, room 116.
For more, visit www.tamiu.edu/coas/theacademy/ phone 956.326.2860, or email academy@tamiu.edu