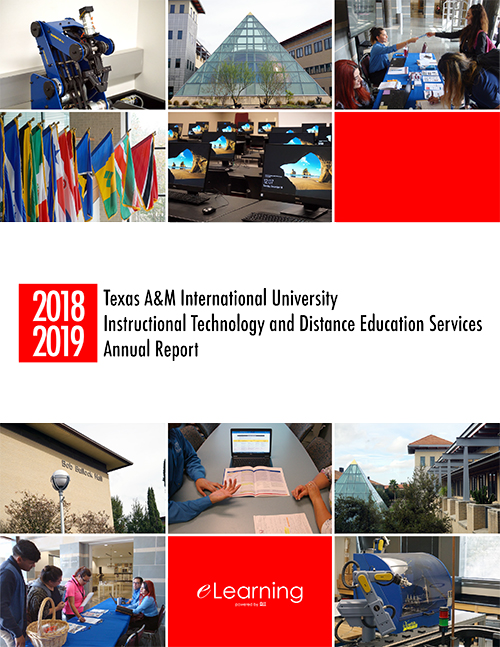 Our 2018-2019 TAMIU ITDE Annual Report is now available.
You may also download a PDF version.
Introduction, Definitions and Goals
Introduction
Texas A&M International University's Office of Instructional Technology and Distance Education Services is committed to providing the best quality education for students. The University offers 1 undergraduate-level program and 10 graduate-level programs, and a certificate program in formats accessible beyond the traditional campus. Courses offered via online are specifically delineated in the schedule of courses. 
Our office is comprised of two groups: Instructional Technology and Classroom Technology Support.
This website serves as a guide to the distance education (eLearning) program at Texas A&M International University (TAMIU). As with any successful program, this website is reviewed and evaluated constantly to reflect changes and improve current practices.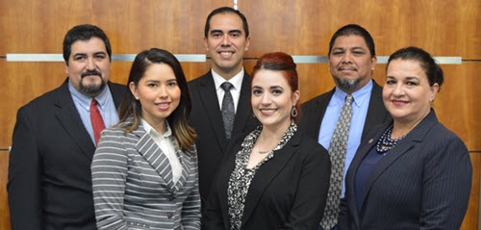 Pictured from Left to Right: Juan "Tony" Ramirez, Anna Gonzalez, Carlos Vallarta, Gloria Sanchez, Julio Tovar, and Dr. Patricia Abrego
The main focus of our eLearning program is the coordination of human and financial resources devoted to the support of distance education for TAMIU's faculty and students. The Director of Instructional Technology and Distance Education Services is responsible for the overall coordination of services in the eLearning program under the Associate Vice President of Information Technology who, in turn, reports to the Vice President for Finance and Administration. A list of the eLearning team members and an organizational chart of the office can be found on the Contact Us page of this site. Our instructional technology area has adequate technical support staff for both faculty and students.
Distance Education and Instructional Technology Committee
In 2011, the Distance Education and Instructional Technology Committee (DEITC) at TAMIU was created to review and recommend procedures for online course development, quality standards, and evaluation mechanisms. This committee continues to serve as an advisory body for the eLearning program and other technology initiatives.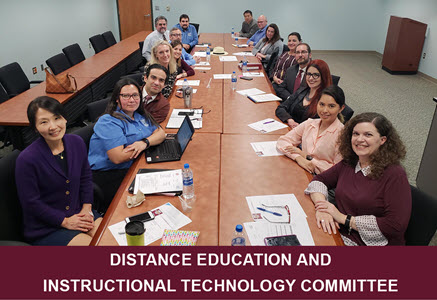 Definitions
A course's instructional delivery mode is selected at the department level and forwarded for approval through curriculum committees at the department, college, and university level. The instructional delivery modes include online, through our eLearning management system (LMS), and via interactive videoconferencing, through the Texas A&M System's Trans-Texas Videoconference Network (TTVN).
Three categories of distance education are defined as:
Distance Education Goals 2017-2020
Goal 1. Create, support, and enhance the instructional technology activities of the TAMIU Community.
Goal 2. Increase learning opportunities in instructional technologies for faculty and students.
Goal 3. Continue to implement and expand the Quality Matters standards in all newly-developed online and hybrid courses.
Goal 4. Maintain and expand collaborative service efforts with regional school districts and institutions of higher education.
Goal 5. Promote, recognize, and reward excellence among faculty integrating technology.
Office of Information Technology
Instructional Technology & Distance Education Services
Killam Library, Room 259
Phone: (956) 326-2792
Fax: (956) 326-2299
E-mail: elearning@tamiu.edu