Learning Technologies Week
Sharing sessions exemplifying best practices in teaching at a distance as well as emerging technologies are scheduled during our annual Learning Technologies Week (formerly Distance Education Week) in the month of November. View this page for information about Learning Technologies Week events, about the student scavenger hunt or to view a video of previous events.
2022 Learning Technologies Week Program of Events
View the program for this year's Learning Technologies Week sessions! Events run from October 31st thru November 4th.
You may also download a PDF version of the 2022 Learning Technologies Week Program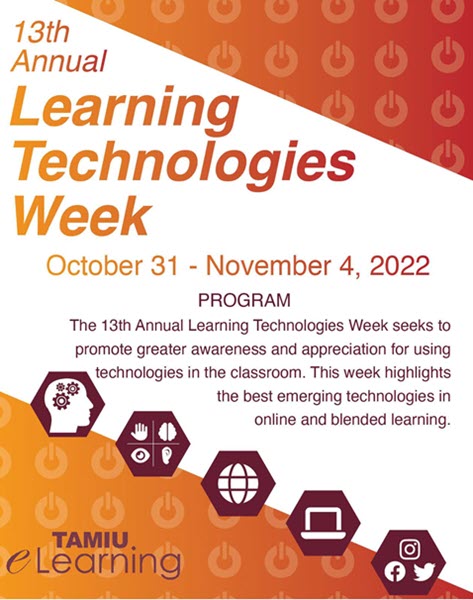 Recordings of Selected Events
To view recordings of selected events from the Learning Technologies Week, faculty may find the links via the "Faculty Resources" course shell in Blackboard. All faculty have access to this course shell under "My Courses". If this is not available to you, contact the eLearning group (elearning@tamiu.edu) for access to these resources.
Previous Events
If you have any questions, contact Instructional Technology and Distance Education Services at (956) 326-2792 or at
elearning@tamiu.edu
.
Office of Information Technology
Instructional Technology & Distance Education Services
Killam Library, Room 259
Phone: (956) 326-2792
Fax: (956) 326-2299
E-mail: elearning@tamiu.edu