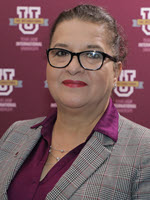 Director of Academic Technology
Quality Matters Coordinator
KLM 259 A
(956) 326-2302
Dr. Abrego provides vision, leadership and coordination in the effective use of instructional technologies used in distance education, interactive media, classroom instructional technologies and web-based instruction. She supervises the Instructional Technology and Distance Education Services staff including the instructional technology coordinators and the media services groups.
Academic Background
Ph.D. Educational Administration, Texas A&M University, 2009
M.S. Educational Administration, Texas A&M-Kingsville, 2001
Publications & Presentations
Ábrego, Patricia. (2019, October 15) "Lessons Learned and Benefits Gained: TAMIU's QM Certification Story", Retrieved from https://www.qualitymatters.org/qa-resources/resource-center/articles-resources/TAMIU-QM-certification-story
Bernat, F., & Ábrego, Patricia C. (2019). Using Technology in Online Courses. Distance Learning, 16(1), 7-19.
"Rapid Assessment of Assignments Using Plagiarism Detection Software," (with Whitney R. Bischoff, DrPH, RN),

Nurse Educator

, 36, 2011.
"Meeting the needs of rural communities through the use of interactive collaboration," USDLA conference, 2010.
"Perceptions of campus administrators, teachers, and students on the use of interactive videoconference for the delivery of Algebra I in selected high schools in South Texas," unpublished dissertation, 2009.
"Technology on the U.S./Mexico Border: Improving Teaching, Improving Learning," Multimedia Schools, October, 2003.
Awards
Recipient, Outstanding Employee Service Award at TAMIU, 2013
Certifications
Peer Reviewer Course, Quality Matters
Master Reviewer Certification (MRC), Quality Matters
Trainings
Applying the QM Rubric (APPQMR), Quality Matters
Creating A Foundation With Learning Objectives (Standard 2), Quality Matters
Connecting Learning Objectives and Assessments (Standards 2 & 3), Quality Matters
Memberships
Area 1 Director, Texas Computer Education Association (TCEA)
Member, United States Distance Learning Association (USDLA)
Member, Texas Distance Learning Association (TxDLA)
Office of Information Technology
Instructional Technology & Distance Education Services
Killam Library, Room 259
Phone: (956) 326-2792
Fax: (956) 326-2299
E-mail: elearning@tamiu.edu